Defiance
Product Information
Type
Starfighter
Technical Specifications
Speed
600 m/s


Strafe: 150 m/s

Hull
125
Strength
100
Armament
Laser Harpoon


Rocket Array

Special Weapon
Pulse Mine
Affiliation
Galactic Stargate Authority
The Defiance was designed in the mold of the Defender. It has decent stats in all areas without any standout strengths or weaknesses. As an upgrade to the old stand-by, it's faster and has more hit points than the Defender. Its speed is a real asset in missions where you need to cover ground, which is most of them. Its laser-based primary weapon takes a little getting used to, as you have to hold the Fire Weapon button and keep the beam on your target. But once you've upgraded to the laser lance, you can really tear through stuff.
Fast, good handling
High defense for a ship this fast
Laser lance is the best gun for melt down widows
Laser weapons tricky to use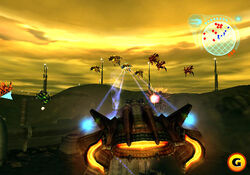 Community content is available under
CC-BY-SA
unless otherwise noted.